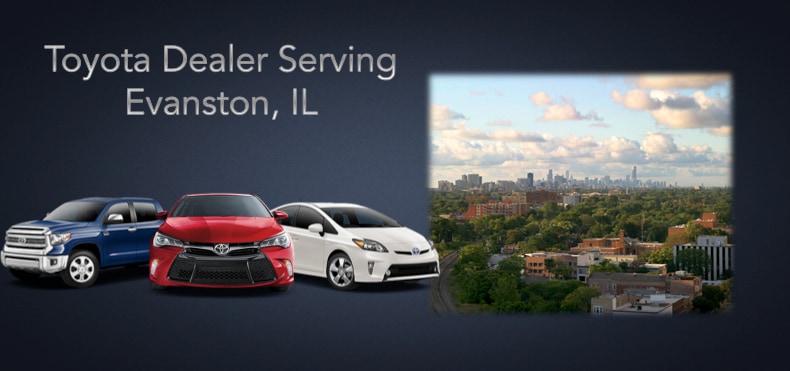 The hardworking team at Northbrook Toyota wants the Evanston, IL area to see what we can offer. Looking for a Toyota dealership with the latest inventory? We have 400 new and pre-owned options available. Looking to get auto service at a Toyota dealership? Check out our auto service specials and save. Looking for a lease or finance deal at a Toyota dealership? Contact our team and get started on a new lease or finance deal today. 
New and Pre-Owned Inventory at a Toyota Dealership
The latest Toyota vehicles feature the reliability and efficiency that has made Toyota one of the most popular brands in the Evanston, IL area, but our current lineup also offers impressive design and performance. Anyone in the Evanston, IL area looking for a contemporary vehicle that will retain its value better than almost any other brand available needs visit our Toyota dealership as soon as possible.
Our Toyota dealership also has an impressive inventory of pre-owned vehicles available to the Evanston, IL area. Pre-owned vehicles are a great option for drivers on a budget and our dealership has over 100 available for Evanston, IL area drivers to check out. 
Auto Service Specials at a Toyota Dealership
The Evanston, IL area has several options available for service, but the
auto service center
at our Toyota dealership should be the preferred option. Chain stores and locally owned shops often lack the inventory and knowledge to service your Toyota. Our team has extensive experience in maintaining Toyota vehicles and we use real Toyota parts to restore your vehicle to factory-like condition. Most chains and smaller shops use generic parts and products. Your vehicle isn't generic, so your auto service shouldn't be either. 
We also offer several new auto service specials almost every month. The service center at our Toyota dealership has the specials and coupons to save Evanston, IL area drivers as much as possible on routine auto service and maintenance.
Get a Finance or Lease Deal at a Toyota Dealership
In addition to our inventory and service options, our Toyota dealership also has the finance and
lease
options to help the Evanston, IL area afford the latest new models. Whether you're looking to lease a new Toyota Camry or get a loan for a pre-owned Toyota Highlander, our team has the knowledge to help you get the vehicle you want with a finance or lease plan you can afford. 
Any Evanston, IL area driver looking for the best in inventory, auto service or finance has to see what our Toyota dealership is capable of. Our team knows that Evanston, IL area drivers won't be disappointed once they have visited our Toyota dealership. Northbrook Toyota is the premiere dealership location for the Evanston, IL area. Contact our team through our website to learn more about any of our services.