Are you on the hunt for a good auto shop for car battery repair? If your car is having difficulty starting, visit the service center at Toyota on Edens. Our team of factory-trained Toyota repair experts have years of experience fixing Toyota models like yours, and we love helping customers get back on the road without any further need of the jumper cables in the trunk. Do you want to speak directly to an auto technician at Toyota on Edens with your auto maintenance and repair questions? Call (847) 272-0808.
Toyota TrueStart Battery Installed Starting at $169.95*
*Price valid with exchange.  Excludes some hybrid models. Plus tax, if applicable.  Not valid with other offers.  Coupon valid at vehicle check in. Photo for illustration purposes only.

Diagnosing a Dead Battery
If you suspect that your car battery is failing, stop into the service center at Toyota on Edens today for a voltage test. We will diagnose whether your vehicle is suffering from a dead battery, a faulty starter, or bad alternator. However, these seven signs are a good start to diagnosing a bad battery.
Engine starts slowly, inconsistently, or not all
No interior lights when you attempt to start the car
You've jumped your car three times or more in the same week
A battery warning light is illuminated on your dashboard when running
Battery case appears swollen on a visual inspection
Battery terminals appear corroded on a visual inspection
It's been more than three years since you last replaced the battery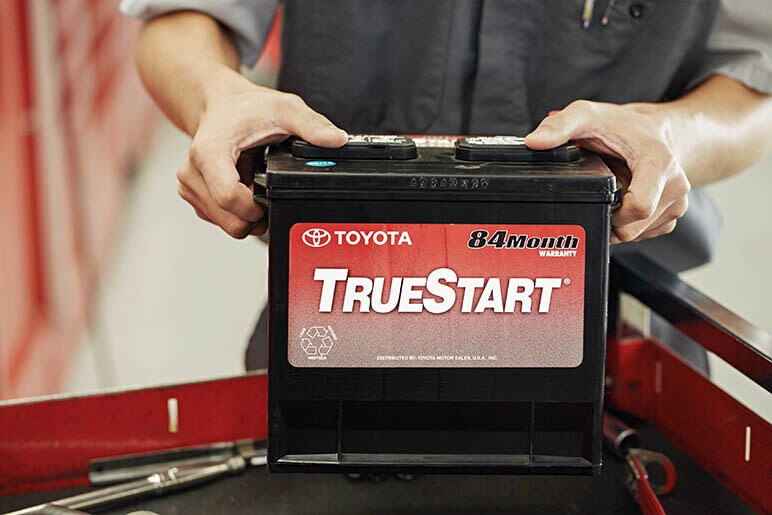 Battery Replacement
Car batteries won't last forever, so it's inevitable that you will need to replace your car battery a few times throughout your vehicle's life. Most auto technicians recommend replacing your car battery every three years, although you can check your owner's manual to see the exact recommendation for your specific model and year. The service team at Toyota on Edens can dispose of your old battery and install a new one quickly and professionally. And with our service specials, you won't have to worry about emptying your wallet over car battery prices. Just bring the coupon to our service center when you bring your car in for battery replacement.
To schedule a service appointment or inquire about service prices, please call (847) 272-0808.