Is it time to get your oil changed? Come to Northbrook Toyota in Northbrook, IL! We have many services available in addition to oil changes, many of which can be done during your oil change - such as tire rotation, battery inspection, and more. If you have any questions, give us a call at (847) 272-0808 or send us a message online.
Conventional vs. Synthetic Oil: Which One To Use?
Since the invention of synthetic oil, drivers have had the choice between conventional and synthetic oil. So, which one should you use? While they both have their benefits, we suggest getting synthetic oil, seeing as it is better adapted to withstand higher temperatures, has better resistance to oil breakdown, and better flow in colder climates. That said, synthetic oil comes at a higher price tag than conventional oil. It also may entirely depend on your make and model which type of oil you should use in your Toyota. If you'd like to get an expert's opinion, give a member of our service team a call at (847) 272-0808.
How Often Do I Need to Get an Oil Change?
When to change your oil depends on how old your vehicle is. If you have an older model, you'll want to change your oil every 3,000 to 5,000 miles. If you have a newer model, you'll want to take it in every 5,000 to 7,000. If you use synthetic oil, your car is likely to go longer without needing an oil change.
How To Schedule an Oil Change at Northbrook Toyota
At Northbrook Toyota, we make it easy to schedule your oil change. Simply fill out our online form and a representative will be in contact with you.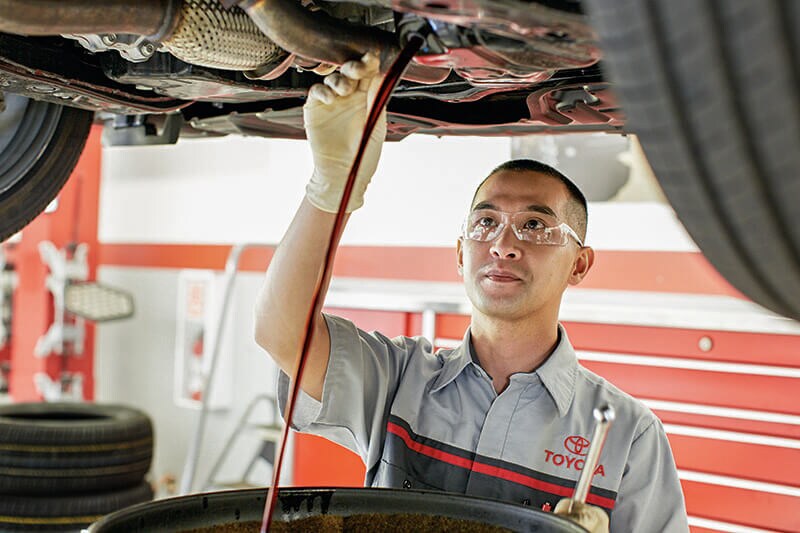 Oil Change Coupons & Specials in Northbrook, IL
When you come to Northbrook Toyota to get your oil changed, you won't have to break the bank. We have plenty of service and parts coupons for you to take advantage of. Don't forget to check out our service center to see all the services we provide.