Are you getting ready to buy a new car? Mid-sized sedans are a popular option for people who need a way to get around town affordably and comfortably. Two of the most popular options available in the Wheeling, IL area are the 2018 Toyota Camry and 2018 Nissan Altima. So which should you buy? Read our detailed comparison below to learn how these two models compare in several key categories. You can also speak directly to one of our product experts by calling (847) 272-0808, or get more information on specific Camry trim packages with our new model overview.
2018 Toyota Camry vs. 2018 Nissan Altima: Engine Specs
Although the new Toyota Camry and Nissan Altima come with the same sized engine, the engineering of the Camry is far superior. Not only is the Camry much more powerful, it's also incredibly more efficient, so you can go faster and farther with every fuel-up than in the Nissan Altima.
| | | |
| --- | --- | --- |
| 2018 Toyota Camry | Model | 2018 Nissan Altima |
| 2.5L I4 | Standard Engine | 2.5L I4 |
| 203 HP | Horsepower | 179 HP |
| 184 lb.-ft. | Torque | 177 lb.-ft. |
| 8-speed automatic | Transmission | CVT |
| 34 MPG | Fuel Economy ­- Combined City/Hwy Driving | 31 MPG |
| 3.5L V6, Hybrid | Also Available | 3.5L V6 |
2018 Toyota Camry vs. 2018 Nissan Altima: Interior and Technology
Both the Camry and Altima are available with a variety of comfort features including dual-zone climate control, heated leather front seats, an 8-way power-adjustable driver's seat, and more. However, the Camry is far more comfortable. It has more rear headroom and legroom than the Nissan Altima, more hip room and shoulder room, and an electronic parking brake to save space up front. Additional details are described below.
The Camry comes standard with a 7-in. color touchscreen loaded with an app suite including Scout GPS Link®, compared to a 5-in. screen without navigation in the Altima
While the Altima is available with a sunroof in upper trims, the Camry is available with a panoramic glass roof
Only the Camry is available with a Head-Up Display
The Nissan Altima has one USB port while the Camry has up to three
The cabin of the Camry is lit by LED lighting, but not the Altima
The Camry is available with wood or metal decorative interior accents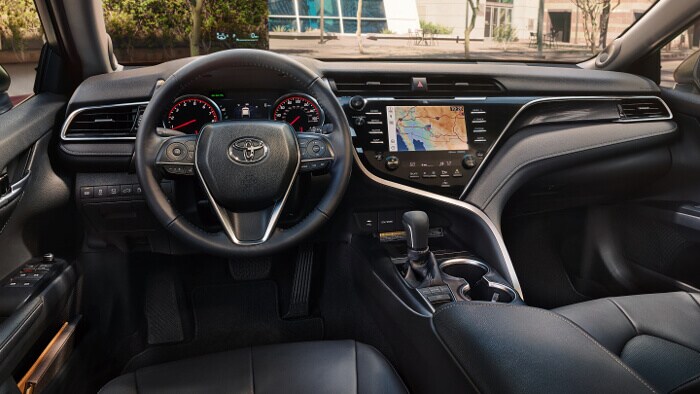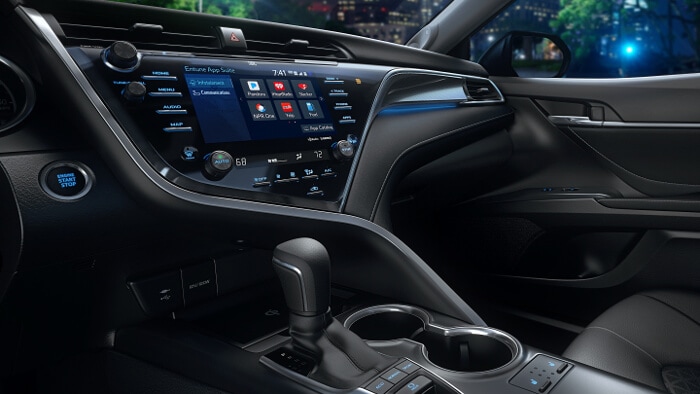 2018 Toyota Camry vs. 2018 Nissan Altima: 5-Year Ownership Costs*
The most popular Camry trim package at our Toyota dealership near Wheeling, IL is the Camry SE. The equivalent trim package on the Altima is the Altima SV. The new Camry is already the more affordable option, but even after you leave the dealership with the key in hand, the Camry will continue to save you money over years of ownership.
| | | |
| --- | --- | --- |
| 2018 Toyota Camry SE | Model | 2018 Nissan Altima SV |
| $25,350 | Starting MSRP | $25,910 |
| $0.46 | Average Cost Per Mile | $0.48 |
| $12,903 | Depreciation | $13,297 |
| $6,624 | Fuel | $6,835 |
| $4,048 | Insurance | $4,140 |
| $3,916 | Maintenance | $4,962 |
*According to Edmunds.com estimates
Test Drive the 2018 Toyota Camry Near Wheeling, IL
It's clear that the Toyota Camry is not only the better vehicle, but that it's a better value as well. You can explore all the finance and lease options currently available at our Toyota dealership serving Wheeling, IL on our incentives page, or schedule a test drive of any new Camry model in our inventory with our test drive appointment form.