Tire Price Match Guarantee!
Are you wondering where you can get the best tires for your Toyota Tacoma, Corolla, or 4Runner? Regardless of which Toyota model you own, you can get your tires replaced or repaired at Northbrook Toyota in Northbrook, IL. When you purchase new tires from our dealership, you'll appreciate the Toyota tire and wheel protection warranty! Our Toyota dealership can order any size tires you need to ensure proper fit on your vehicle. Contact our Toyota tire center today to schedule your appointment by calling (847) 272-0808.
Toyota Tire Replacement
Have you recently inspected your tires for excess wear? It is important to maintain your Toyota vehicle's tires to ensure safety especially on wet or icy road conditions. You can gauge the tread depth on your tires by placing a penny between the grooves. If your tire tread is flush with Abe Lincoln's head, then you will need new tires soon. If you can see space above Lincoln's head, you should schedule your tire replacement service today by calling (847) 272-0808.
Toyota Tire Repair
Do you have a leak or small puncture in one of your tires? Let the team at Northbrook Toyota repair your tire and get you back on the road. Our experts can simply plug and patch small punctures in your tire, so you won't have to purchase a brand new tire! Contact our service center at (847) 272-0808 to see if your Toyota tire can be repaired.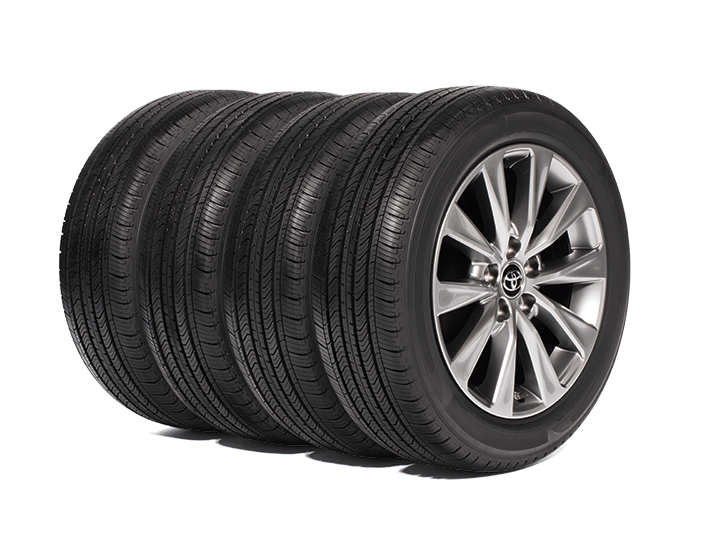 Toyota New Car Tire Warranty
When you purchase new Toyota tires from our dealership, you will have peace of mind knowing your new tires are protected by a Toyota tire warranty. The Tire and Wheel Protection Platinum plan includes the following coverage:
Coverage of damage caused by operational or structural failure due to a defect in material workmanship
Tire replacement if damaged by road hazards such as nails, broken glass, tree limbs, or a pothole
Wheel replacement if the wheel fails to hold a seal with your new tire
No limit on number of covered claims