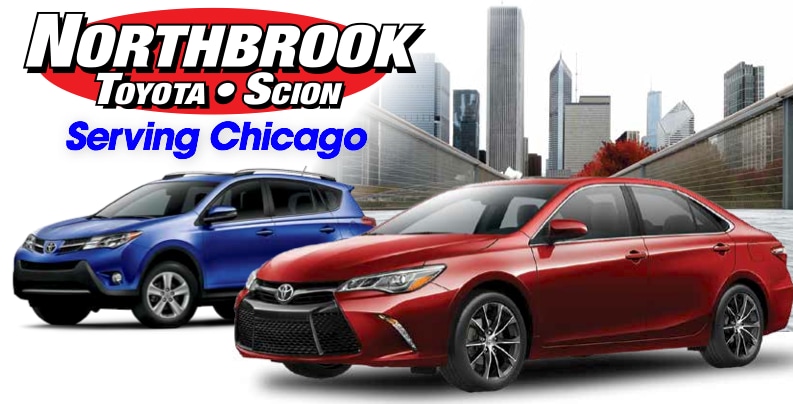 Anyone in the Chicago, IL area looking for Toyota inventory, service or finance needs to visit Northbrook Toyota today. Only Northbrook Toyota has the new and pre-owned inventory to get Chicago, IL drivers and the finance and service choices to keep them there. Chicago, IL drivers looking to get the best that Toyota has to offer have to stop by Northbrook Toyota in order to receive the best Toyota inventory, service and finance in the area.

New and Pre-Owned Toyota Inventory in Chicago, IL

Are you looking for the latest in innovation and design Toyota has to offer? Northbrook Toyota has the new car, truck and SUV options that Chicago, IL is looking for. Whether you're looking to add a new Toyota Camry, the ultimate in swagger with a new Toyota Sienna or a powerful new Toyota Tundra, Northbrook Toyota has the new vehicle solutions Chicago, IL needs.

In addition to our inventory of new Toyota cars, trucks and SUVs, we also have an impressive inventory of used and pre-owned vehicles for Chicago, IL to look at. Used and pre-owned vehicles can be a tremendous value to a Chicago, IL driver on a budget. 

Finance a Toyota in Chicago, IL

Financing or leasing a new Toyota in Chicago, IL has never been simpler than it is right now. Lease laws have been changed and Chicago, IL has already saved thousands of dollars on new lease deals. Taxes have essentially been cut in half and our team of finance wizards are ready to put the new lease laws to use for the Chicago, IL area.

It's also possible to get a lot of the financial details worked out without leaving your home. The Northbrook Toyota website is available to help Chicago, IL drivers value their trade-in, calculate payments or get pre-qualified for Toyota financing.

Toyota Parts and Service in Chicago, IL

Northbrook Toyota also removes the headaches of getting new parts and service for your Toyota  vehicle in Chicago, IL. Our diligent service team has the expertise and ability to get the routine maintenance and repairs that your Toyota needs as quickly and safely as possible. Our team is also adept at a wide range of routine maintenance and repair services.
Oil Changes

Multipoint Inspection

Front End Alignment

Tire Balancing and Rotation

Wiper Blade Replacement

Fluid Check

Transmission Repair

Brake Adjustments

Engine Tune-up 
Not only is our service center capable of performing routine maintenance and repair, but we also feature a team of parts experts. Our parts department has years of experience in tracking down parts for almost every make and model of Toyota cars, trucks or SUVs. Let our team do the detective work for you and find the parts or accessories that your Toyota needs in Chicago, IL.

Full Service Toyota Dealership in Chicago, IL

Northbrook Toyota has everything the Chicago, IL area could want in a dealership under one roof. Looking for nearly infinite inventory options? We've got them. Looking for the best in service and parts? We have that too. Looking for the most up to date finance plans? We have that as well. Northbrook Toyota is the perfect option for all of Chicago, IL's Toyota needs. Contact our dedicated team through our home page, by phone or visit Northbrook Toyota during business hours.