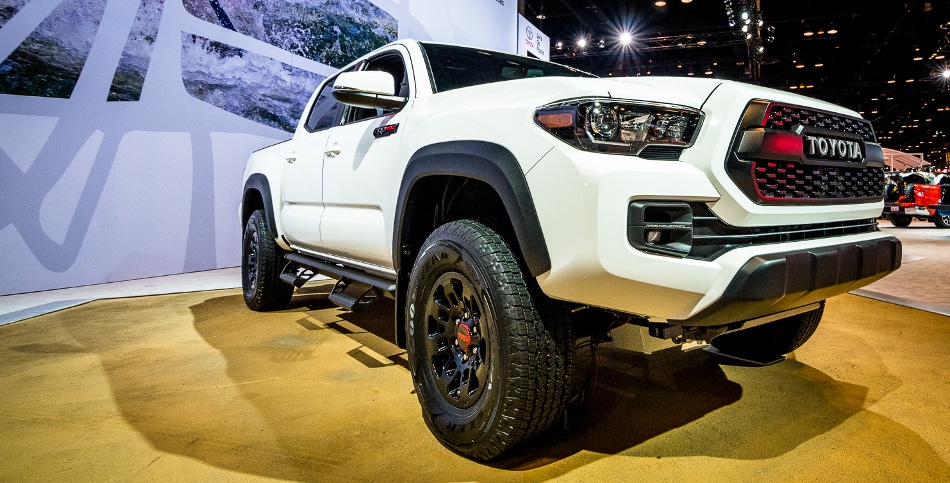 Featuring 19 production vehicles, six debut vehicles, three concepts, and a test track, Toyota was among the best represented brands at the 2017 Chicago Auto Show. Whether you saw a glimpse of the future or took a test drive in a current model, Toyota was primed to impress.
Toyota's Go The Distance course served to highlight the technology and fuel efficiency of the new RAV4 and Highlander Hybrid SUVs. The all-wheel drive and rear cross-traffic alert demonstrations showed attendees how the latest in safety technology applied to real life driving situations.
Known for focusing on the future of driving, Toyota also unveiled the FCV Plus, FV2, and i-Road concepts to give drivers an idea of where Toyota might be heading with compact, technology-focused, fuel-efficient vehicles.
While the concepts may never actually see the road, the debut vehicles Toyota brought to the 2017 Chicago Auto Show certainly will. Emphasizing off-road capability and modern drivability, Toyota had the following 2018 models available for attendees to check out:
The 2018 Toyota Tundra TRD Sport and 2018 Toyota Sequoia TRD Sport add 'go-anywhere' capability to a pair of popular models.
The 2018 Toyota RAV4 Adventure is ideal for heeding the call of the wild and heading to a campsite for a long weekend.
The 2018 Toyota Camry and 2018 Toyota CH-R are ideal for upgrading your daily drive with advanced technology and impressive versatility.
Did you see the Toyota display at the 2017 Chicago Auto Show and decided to take a test drive? Northbrook Toyota has every production vehicle in stock and ready for you to see in person. Contact our team by phone at 847-272-0808 or through our test-drive form to make an appointment today!